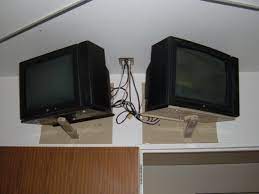 Unsightly wires sticking out of the back of an expensive flat-screen TV are the worst thing that can happen. You might not want to spend even more money to hide your wires in your walls if you've just bought a new TV. By hiding your TV cables, you can not only make your living room (or any other room) much cleaner and more organized but also make it a safer place for children, seniors, and pets.
In addition, if you live in an apartment or condo that you don't own, you might not be able to drill into your walls. The following are a few cheap and easy ways to hide your TV wires without cutting them into your walls.
How to hide TV wires without cutting wall?
If you have a mounted TV, one of the most unsightly aspects is the tangle of wires and cables that are often visible. While many people resort to cutting holes in the wall to hide the wires, this is not always a practical or desirable solution. Fortunately, there are several effective methods for hiding TV wires without cutting into the wall.
One of the easiest ways to hide TV wires is to use cable covers, which are adhesive strips that can be attached to the wall and painted to match the color of the wall. These covers can be easily removed if you need to access the wires in the future. Another option is to use a cord cover kit, which is a plastic channel that can be mounted to the wall to conceal the wires. These covers are available in a variety of sizes and can be painted to match the wall color.
If you want a more discreet solution, you can try using a decorative conduit or molding to hide the wires. This can be attached to the wall and painted to match the room's décor, creating a seamless look. Another option is to use a fabric panel or tapestry to hide the wires, which can be hung behind the TV and serve as a decorative accent to the room.
There are several effective methods for hiding TV wires without cutting into the wall, making it easy to achieve a clean, polished look in any room.
1. Make a wood frame and cover it with fabric
This is a creative way to hide TV cords without cutting the wall, but you have to choose your fabric carefully. It has to match the color of the walls and the furniture in the room. For the frame, you will need four studs that you will need to attach with a few screws (you can also use strong glue) to create a rectangular shape.
Step two involves attaching the fabric to the wood frame with staples (or glue) and cutting a hole for the TV mount. The frame can be hung on the wall with picture hangers or wire hangers (if the frame is lightweight). All of the TV wires run behind the frame and remain hidden. However, they can be accessed if necessary. Cable management for wall-mounted TVs at its finest. You can get all the necessary hardware at a hardware store.
2. Make a race track and paint it the same color as the wall
One of the most obvious solutions for organizing and hiding TV wires without cutting the wall is raceways. You can purchase raceways online and in your local store as well. The majority of them are made of plastic with an adhesive strip on the back, which enables them to be mounted on the wall without screws. It should be noted that there are specific corner models.
The cable management raceways on TVs are usually white, and if your wall is a different color, they won't blend in. If you are painting the raceway before installation, this will solve the problem. Plastic surfaces can be painted with acrylic, model, or enamel paint. Do not forget to clean the raceway with warm water and dish soap before painting to remove any grease or dirt.
3. Objects can be used to conceal TV cords
You can implement this method in a few minutes for free, and it costs nothing. It is best to have a flat surface (such as a shelf, table, etc.) under the TV, and the distance between them is not too large. The cords can be covered by placing home décor items such as picture frames, plants, or books under the TV. Don't just place the items randomly underneath the TV. They should blend in with the surroundings and look natural.
4. TV wires can be turned into wall art
Keeping them hidden isn't the only option. You can sometimes hide them in plain sight and still make them look great. You can manage and organize your TV cords stylishly and creatively by turning them into wall art.
It is possible to create anything you wish, including an abstract image or a silhouette of an object, person, or city. You can decorate the cords with color tapes, ribbons, stickers in the shape of flowers with leaves, or whatever else you like. If you want, you can hang some postcards or giant letters. Only your imagination limits you. Outline the wires on the wall with a pencil that can be erased easily before mounting them. Make sure the length of the cords is measured with a string, and then plan the artwork accordingly. Wall clips or mounting tape can mount the wires to the wall.
5. Camouflage TV cables and cords
While this method is similar to turning the cords into wall art, they are virtually invisible to everyone who knows about their location. If you want to hide your cables, you can use any home decor items. You need to hide the cords within a larger design to make the cords hardly noticeable. You will undoubtedly need some imagination to hide your cables this way, but the result will be worth the effort.
6. Choose a TV stand that does the job for you
Although this is not the cheapest way to hide TV wires, it is undoubtedly a stylish alternative. Please understand that I am not suggesting you purchase a new TV stand so that you can hide your cords if you already have one. You can, however, use it to kill two birds with one stone if you don't have a TV stand or want to replace the old one.
One of the best things about the Ameriwood elevation TV stand is how easily it solves cable issues. Cable boxes and other accessories can be kept on three shelves while the Snap-On back panel hides all unsightly wires. If your television is mounted on the wall and you don't need a stand, you can buy some floating shelves with back panels (to hide the cables) and mount them under the TV. If you cannot find any models with the back panel of your choice, you can make the back panel yourself using some plywood and slats if you are not afraid of DIY.
Conclusion
Read more: What Is Float Therapy? How Does It Work And Benefits Of Float Therapy
You have several options for hiding TV wires without cutting the wall. Take control and make those unsightly wires disappear if you're tired of looking at them under your TV.
Most methods can be performed within an hour or so. The best method for you will depend on your situation. Alternatively, you can paint your raceway the same color as your wall and install a raceway. The cords can be hidden behind other objects if you don't want to spend money. Create works of art or cover them up behind unique trim. There are many options available to you.
FAQs (Frequently Asked Questions)
How can exposed wires be covered?
With electrical tape, all exposed wires can be covered. In addition, the tape is used on capped live electric wires as an extra precaution. The tape can be used on loose live wires that don't fit the cap. All you have to do is wrap a piece of tape over the wire.
Can TV wires be hidden behind walls?
Almost all cables can be run through walls without causing any problems! There is only one cable that shouldn't be run through a wall: the standard power cable plugs into an outlet. These cables tend to get hotter than most others.
Is electrical tape suitable for covering exposed wires?
For temporary cord or wire repairs, electrical tape can be used. However, avoid wrapping it around exposed or bare wires.
Apart from this, if you are interested to know more about Catalytic Converters then visit our Tech category.